Upcoming Concerts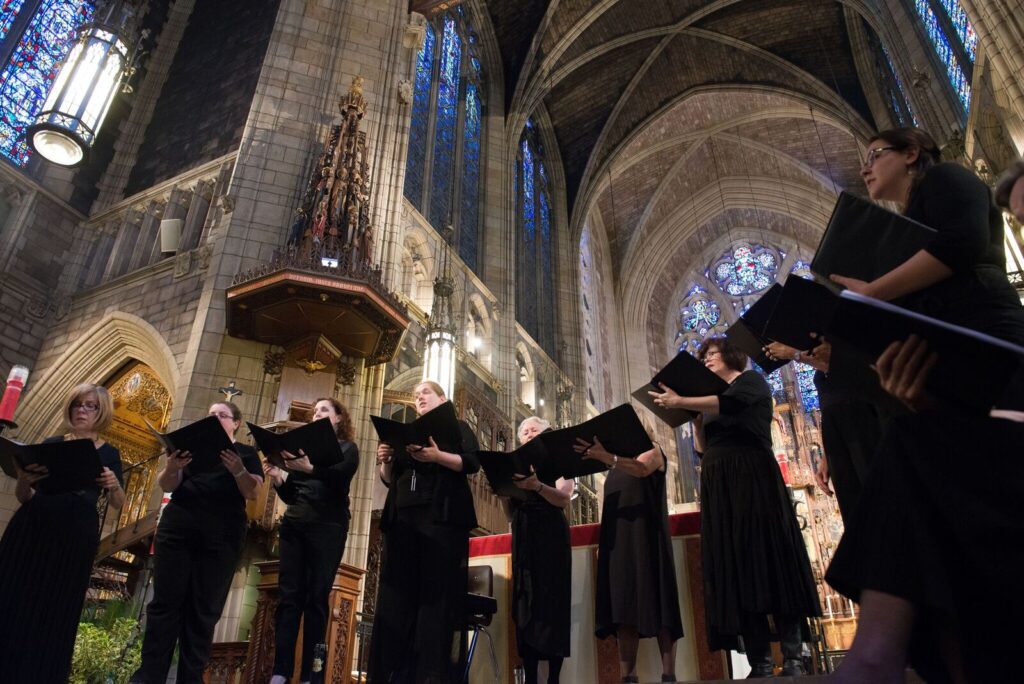 Angelica's December 2023 program features medieval carols and chants of the season; rarely heard pieces by Renaissance composers Leonora d'Este and Agostino Agazzari; two strikingly different settings of Angelus ad Pastores Ait—one by Sulpitia Cesis (1619), the other by David Burks (2010), as well as appealing compositions by other contemporary composers—Oliver Tarney's The Waiting Sky, Eriks Ešenvalds's Panis Angelicus, and Mark Sirett's Christmas in Carrick.
We look forward to seeing you at one of these upcoming concerts!
Sunday, December 10, 3:30 PM
First Reformed Church of Hastings, 18 Farragut Ave., Hastings-on-Hudson, NY
Suggested donation: $20; $10 seniors & students
Tickets sold at the door. We accept cash, checks, Venmo & PayPal.
Sunday, December 17, 3:30 PM
Christ and St. Stephen's Church, 120 West 69th St., New York, NY
Suggested donation: $20; $10 seniors & students
Tickets sold at the door. We accept cash, checks, Venmo & PayPal.
An abbreviated version of this concert will be presented by Downtown Music at Grace:
Wednesday, December 20, 12 PM
Grace Church, 33 Church St., White Plains, NY
Free admission
---

Midtown Concerts,
presented by Gotham Early Music Scene
A Battle of the Sexes: Italian Composers from 1300 to 1800
Thursday, January 4, 2024, 1:15-2 PM
St. Malachy's Church, 239 W. 49th Street
New York, NY
This concert is free; no tickets or reservations are necessary
Watch livestream here
Renowned male composers and lesser-known women composers take turns in this thought-provoking program by Angelica. Alongside pieces by Marenzio, Monteverdi, Scarlatti, you will hear music by Francesca Caccini, Maddelena Casulana, Leonora d'Este, and others. Despite living in a musical world historically dominated by men, these women overcame obstacles to create music of substance that today is becoming more recognized.
---

HEALTH & SAFETY MEASURES
Your health and safety are our biggest priority. We will continue to follow the guidelines issued by the Center for Disease Control of New York State and New York City. While proof of vaccination is no longer necessary, we are following the rules of each venue. We will post an update as we approach the date of the concert.
Angelica members are all vaccinated and have received booster shots. Moreover, all members are required to have a negative COVID test the day of any performance so that we can safely perform without masks.
We reserve the right to change these protocols if necessary. We thank you for your patience and consideration this season.